You know, when I make something, what I appreciate most is the sense of confidence in the outcome. Maybe I'm a nerd, but I choose recipes or products by carefully reading reviews and watching tons of videos.
Such is the case with this grill. Pit Boss claims that this device is equipped so that you can control the cooking process to the exact degree or minute and thus get exactly what you want.
I will tell you about my experience of how to cook pizza on Pit Boss pellet grill. Pizza is a simple and cranky dish at once. And if the Pit Boss pellet grill passes the test for crispy crust and juicy toppings, it's worth its money.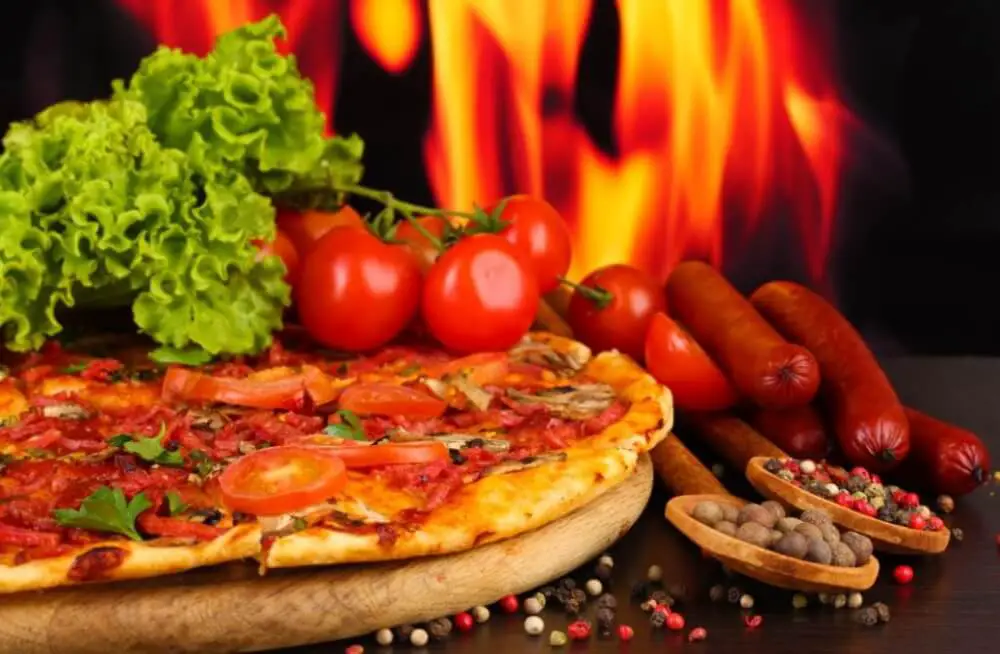 Why Grilling Pizza Is a Good Idea
If it's a hot summer in your area, you know exactly what I mean. Just imagine what your electricity bill would be if you added an oven to a constantly running air conditioner. To get a good pizza, you should heat the pizza stone for at least 40 minutes plus the baking time itself.
When the oven is already off, it cools for another 40 minutes or so. All this time you are incurring the extra expense of a more intense air conditioner. And it's all repeated every time you just want your darling crust.
Moreover, this also applies to other dishes that require a long cooking time. So, it is really a good idea to cook outside.
What Pit Boss pellet grill can do
Comparing the Pit Boss grill to other outdoor cooking units, this is an 8-in-1 machine. Naturally, it can smoke and grill, as well as bake, braise, roast, barbecue, charcoal grill, and sear.
This versatile device allows you to cook poultry and game, pork, beef, fish and seafood, vegetables, and finally bakery. Pit Boss grill lets you cook from low and slow, which is good for smoking meat, up to hot and fast, which is just right for pizzas. Depending on the model, it can stand modestly on your patio or proudly occupy half of your backyard.
Most home ovens heat up to 400-450 degrees, not counting the self-cleaning mode. With Pete Boss you can get 475 degrees or more to get closer to the original pizza cooking of a wood-burning oven.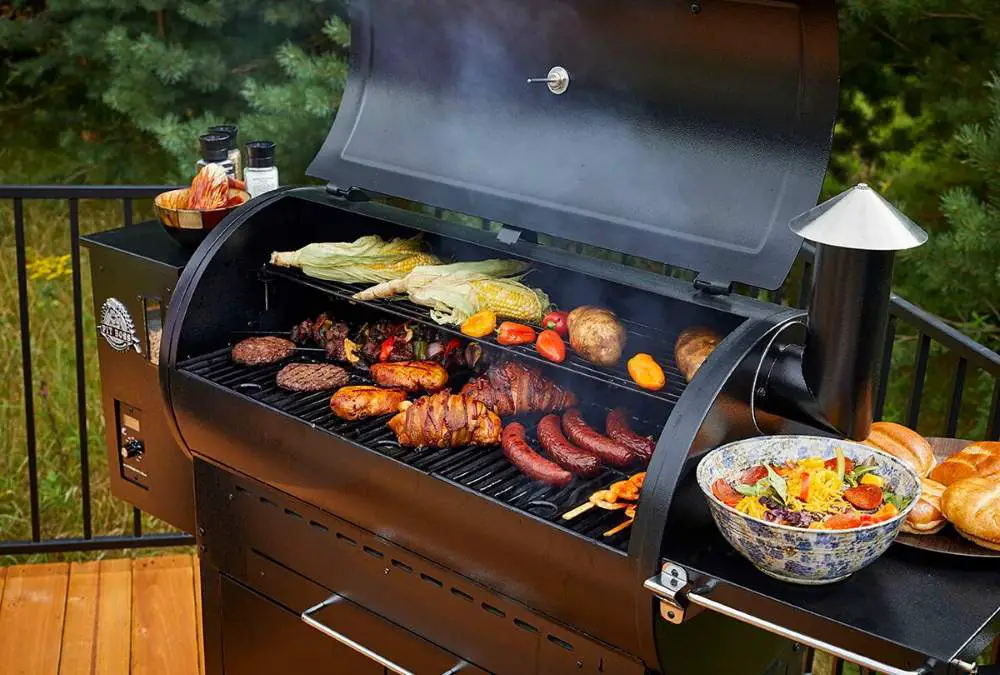 Pit Boss temperature control
I especially liked that Pit Boss smoker has fully electronic temperature control. This unit saves me the worry of how much fuel to add or subtract to get the desired heat. I just turn the dial to the desired degrees and see how the actual temp comes closer to the set temp.
By the way, you can even monitor the temperature in an app on your smartphone. I haven't purchased one yet, but wi-fi control boards are available.
Another heat control is the flat plate Flame Broiler next to the bottom grid. In one position it is open and does direct heat mode. If you move it, the pellet smoker goes into indirect heat and air-circulation mode.
These different modes make perfect any pizza crust equally for frozen and homemade pizza.
Using different wood pellet fuel
Another fact to say Yes! to the pellet grill was its fuel. Light wood pellets give off great heat and leave behind very little ash. You no longer have to deal with black carbon dust and kindling liquids.
But the coolest part is that wood pellet fuel can give your tried-and-true dishes a new flavor. As the grill manual says, there are 15 different smoking flavors that can be matched with pizza sauce and spices.
For the beginning, I took two types of fuel. These were hickory flavoring for meaty and cherry pellets for vegetable pizzas. I think the apple pellets work well too, but I left them out for my next purchase.
Cooking Pizza on Pit Boss Pellet Grill
For my first try, I decided to get two frozen pizzas. They were two of the same regular store-bought 12-inch pepperonis. I'm going to make each one a little differently to compare which one comes better.
Frozen pepperoni is our favorite choice when we don't have time to knead pizza dough, but of course you can pick whatever you prefer. I intend to test a homemade pizza in the future as well, so stay tuned for future posts.
I will be making the pizzas without pre-defrosting, as I usually do with the oven. I am going to cook one pizza on a pizza stone, since I already have one, and the other directly on the pellet grill grate.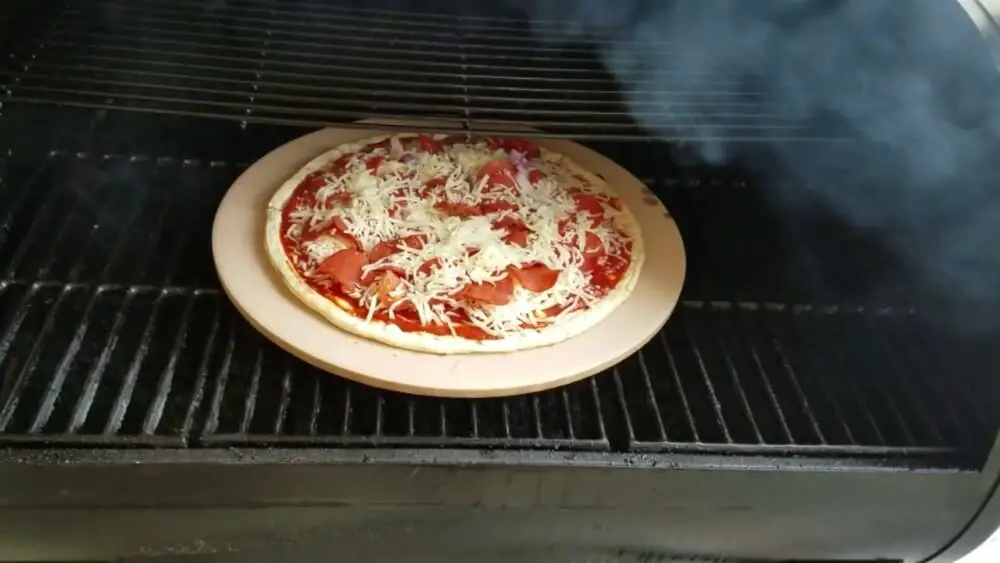 Cooking frozen pizza on a pizza stone
To cook frozen pizza on a pizza stone, I dust my pizza stone with flour, place it in the cold smoker and turn it on to preheat at 250 degrees. I don't think too much heat is good for frozen pizza, as it might stay undercooked inside and overdone outside. So, close the Flame Broiler flap for indirect heat.
When the actual temperature reaches the desired level, put the frozen pizza on the pizza stone and wait about 10 minutes. Then increase to 300 degrees and wait another 5 minutes.
I'm very satisfied with the result. If I had not opened the lid to check, the crust would have turned out even better.
Cooking frozen pizza without a pizza stone
For the second version without the pizza stone, do the same preheating at 250°F. Then also put the frozen pizza directly on the grill grate for 12 minutes. Wait for the last 5 minutes at 300 degrees.
This time I didn't open the lid for nothing and added 2 minutes because I didn't have a pizza stone. The crust turned out pretty good, but not as even as with the stone.
Where the dough touched the grate, the color was more brownish, but not burnt. I feared some sticking, but my fears were in vain. Pit Boss pellet grill grates have a good non-stick coating. As for the topping taste, both pizzas were a complete success.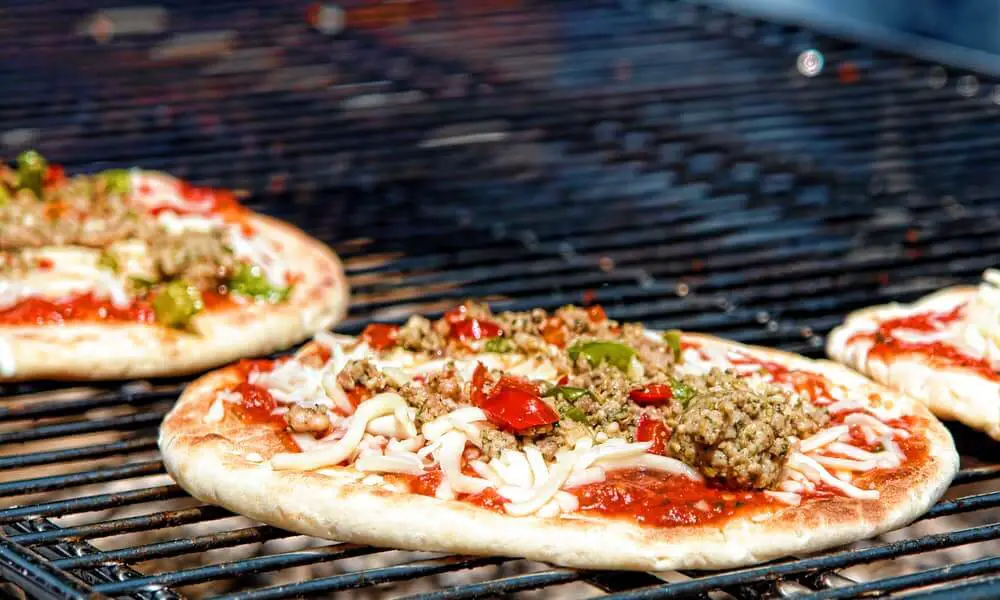 Cooking frozen ready made pizza crust
Nothing could stop me if I detected something else to grill. These would be frozen ready-made pizza crusts to which toppings remain to be topped. Going to use my pizza stone as a regular pizza pan.
Preheat the pellet smoker along with the pizza stone as usual at 250°F. While it's heating up, slice up your favorite topping, mine is pepperoni again.
Bake the first side of the crust for about 7 minutes at 300 degrees. When cooked, flip it over, spread the pizza sauce and lay out the toppings. Continue cooking at 350 degrees for about 5-7 more minutes, focusing on melting the cheese.
Of all the options I've tried, I liked this one the best.
Additional Tools for Pellet Grill
A few words about what accessories you should have around the Pit Boss pellet grill. This cooking utensil is worth having on hand so you can't trace the moment it's ready.
Pizza stones
To sum it up, I can say that the pizza stones are very helpful in achieving an evenly baked crust. Grill grates are more likely to bake the areas of the pizza that they touch. This, of course, forms a nice grilling pattern, but no one can see the bottom of the pizza.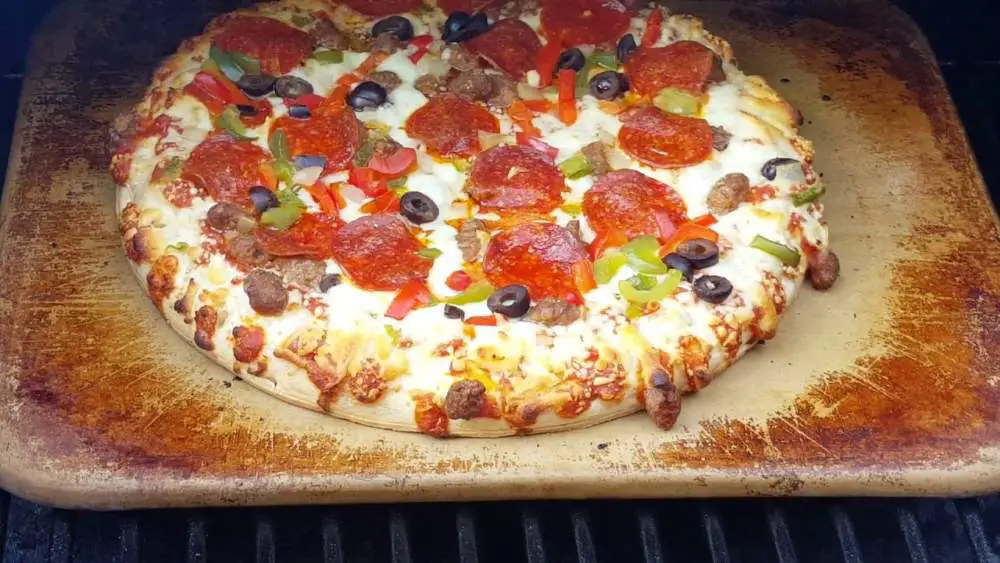 Pizza pans
If you don't have a pizza stone, use a pizza pan or cast iron skillet. It can also be preheated for a better result. Having a pan will allow you to bake the crusts without toppings on both sides. And of course, it comes in handy when you start smoking your own pizza.
Heat-resistant gloves
Everything that goes on inside pellet grills is extremely hot. Even those cooking processes that are called low-temperature (180-257°F) are hot enough to cause a burn. Choose protective gloves made of food-safe materials.
Common oven utensils
This may not be as important for frozen pizzas, but in general, stock up on regular cooking tools. These are first of all tongs, and then a spatula, a baking sheet, a rack for hot food, pizza peel or its substitute, and so on. All of these are definitely needed when you start cooking your own pizza on a Pit Boss unit.
How to Cook Pizza on Pit Boss Pellet Grill: Step-by-step Guide
After experimenting with different variations, a consolidated recipe is ready. This recipe works for any model of Pit Boss pellet grill. If you have any other pellet grill, you need to make sure it also controls the temp inside as well.
Also keep in mind that this recipe is only valid for frozen pizzas and crusts. Fresh dough pizzas require a shorter cooking time and possibly a higher temperature.
You can get frozen pizza from your favorite pizza brand. The specified baking time is suitable for medium sized pizzas. If your pizza is larger or smaller, adjust the time.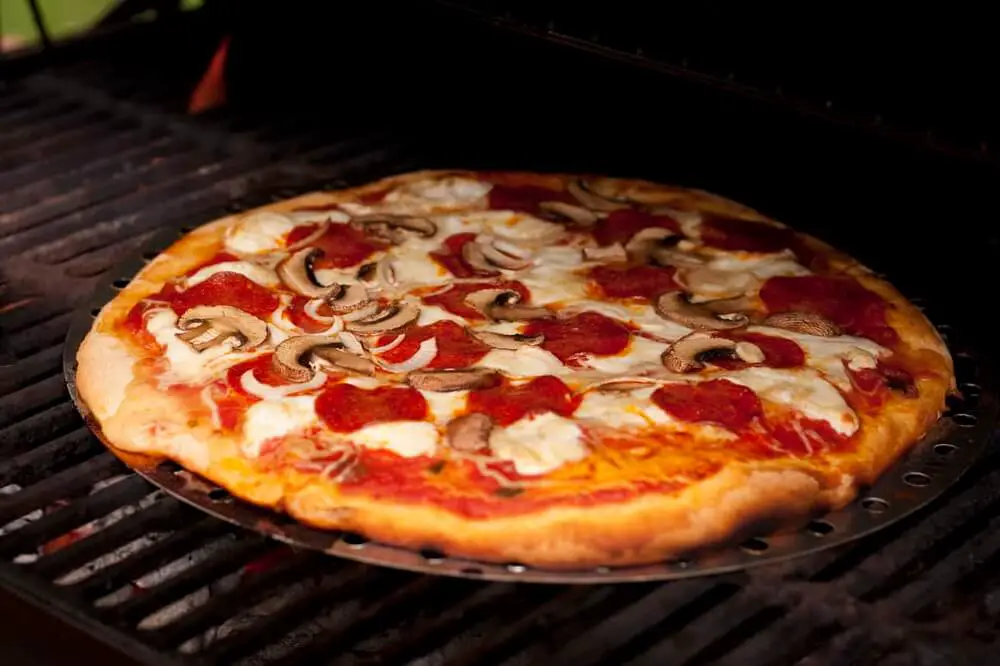 Step 1: Fill your pellet smoker with wood pellets
Cooking pizza in a smokehouse gives a special flavor you'll never get in a home oven. For the first start, Pit Boss versatile hardwood pellets are good.
Over time, find the blend that better accentuates the taste of your favorite pizza. Blends vary in smoke intensity from light and mild fruity flavors to heavy oak wood flavors.
So, fill the hopper with fuel and turn on your pellet grill according to its manual.
Step 2: Pizza stone
A pizza stone is not a must for this recipe, but it gives your frozen pizza a more evenly baked bottom. A pizza stone can easily be substituted for a pizza pan or even a foil dish.
If you want to get a grilling pattern on the bottom of the pizza, put the pizza directly on the grill grid. Be ready that more baked strips may appear at the bottom. The porcelain-coated steel grill grates do not cause frozen pizza to stick, as the crust forms quickly.
Cover the cold pizza stone (if you're using one) with semolina or flour to keep your pizza from sticking. Place the stone on the bottom grill grate and let it warm up.
Step 3: Preheating pellet grill
Preheat your pellet smoker to 250°F. The control board shows what the actual temp is inside. The Pit Boss Grill raises the cooking temp to the set level automatically.
The best frozen pizza is cooked on indirect fever mode. Close the Flame Broiler so that the fire does not rise above the bottom grill grate. This forces the air inside to circulate and ensures even heating throughout the barrel.
Do not open the grill lid without needing to. This causes heat loss and reduce your pizza crispness.
For safety reasons, place your grill in an outdoor dining area.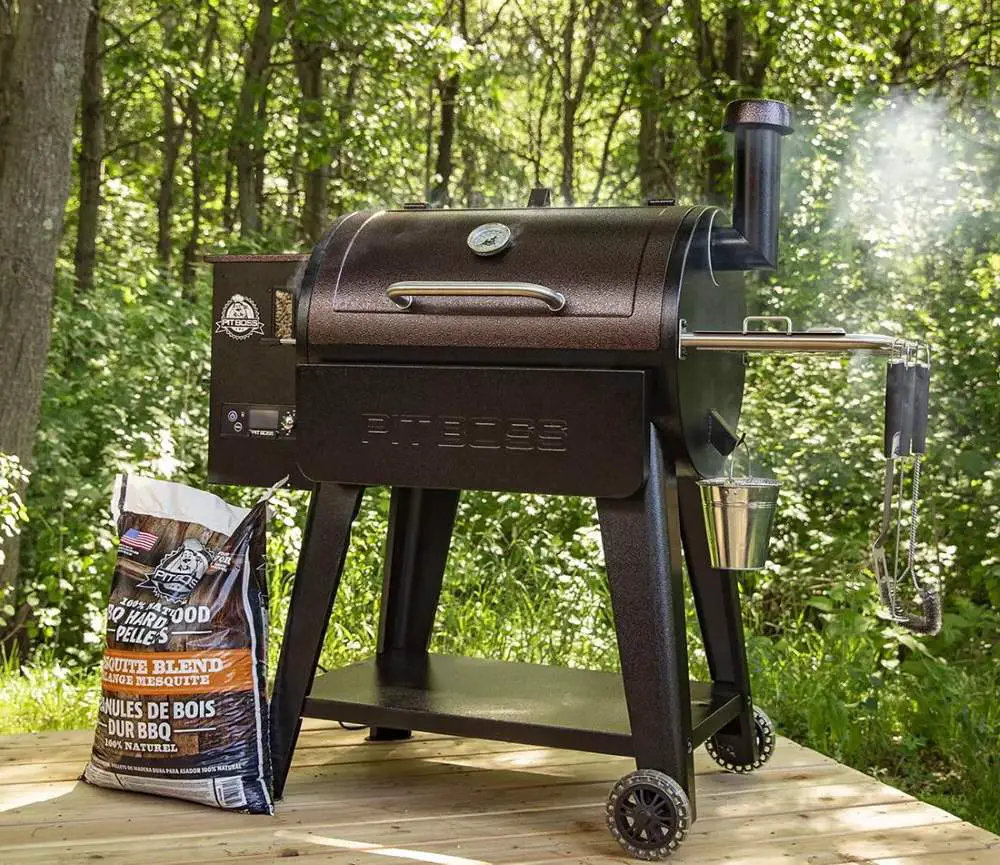 Step 4: Baking process
After 20-25 minutes of preheating, proceed with the main baking. Frozen pizzas do not need to be thawed. Free the pizza from its packaging, even if it is said to be heat-resistant. Place your frozen pizza on a pizza stone and wait 10-12 minutes at 250°F. Next, raise it to 300°F for another 5-7 minutes.
The exact time depends on many factors:
whether you like thick or thin pizza;
how much fillings are on the pizza;
whether or not you use a pizza stone.
For the first time, don't go too far away from the grill, your pizza might be cooked faster. Don't miss it! Check readiness by the cooked edge and melting cheese.
Step 5: Readiness and serving
When the time is up, take out your cooked pizza. Allow it to sit for a couple of minutes before slicing so the cheese will firm up and not be so sticky. It holds all the filling together and it will be easier for you to cut.
Now enjoy your best frozen pizza perfectly grilled on Pit Boss pellet smoker!
Smoking without limits
A little aside from the pizza, your grill gives you unlimited options for your recipes.
It's chicken wings, hams, ribs, steaks, sausages, grilled vegetables, and all made in American, German, Mexican, and Japanese style. For some dishes you'll need a meat probe, and Pete Boss has some.
Perhaps the only thing you can't make on Pit Boss pellet grill is ice cream.
Just watch this video from the Pit Boss channel:
FAQ
What temperature do you cook pizza on a pellet grill?
For frozen pizza on thin dough, I set the first half time at 250 and the second half time at 300. Total baking time fits in 25 minutes if preheated.
Do I need a pizza stone to cook pizza on a pellet grill?
A pizza stone is not required to cook frozen pizza on a Pit Boss pellet grill but is highly recommended for even baking of the bottom. If you don't have one, you can place your frozen pizza on a pellet grill grid.
What temperature do you set a smoker for pizza?
Set your smoker to 250 for preheating and 300 for baking. Preheating time is up to 20 minutes, baking time for frozen pizza is up to 25 minutes.
How long do you smoke a pizza at 225?
If you smoke a frozen pizza at 225, it will take you about 30 minutes. It's better to raise the temp to 250-300 and reduce the baking time to 20-25 minutes so the frozen pizza doesn't get too dry.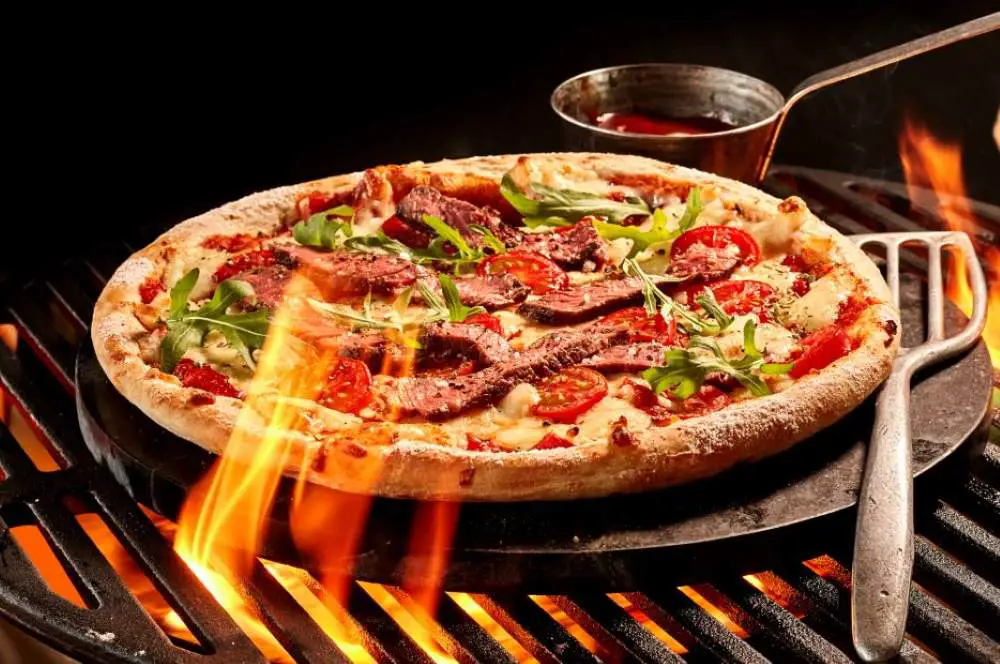 Final Tips For Smoking Pizza
If you are in a hurry and want to save time heating up your smoker, use the high heat mode and then reduce the temp for baking. This consumes more fuel pellets, but you get 10 minutes of extra time.
Also, the high heat mode is used to burn-off the cooking grids. The grids need to be cleaned after each grilling session. Do not overdo mechanical cleaning so as not to damage the grids coating.
Now that you know how to cook pizza on Pit Boss pellet grill you can say that it is not difficult at all. It's as easy as putting it in a regular home oven. Your smoker gives the pizza the unique taste and flavor. We hope that this easy recipe will inspire you to try not only frozen, but your own pizza.