Do you have a piece of frozen pizza lying around for a rainy day? And now you are wondering how to cook a frozen pizza in the microwave so that it tastes good.
As market research shows, frozen pizza production in the United States is a huge industry. So we are sure that cooking frozen pizza in the microwave is an in-demand issue. The microwave is the fastest, most efficient, and most preferred way to cook frozen pizza for many people.
In this article, we will discuss how to microwave frozen pizza, the best way to do it, how to make such pizza keep its crispy crust, how to reheat leftover pizza, and so on. Keep reading if you consider yourself a pizza lover.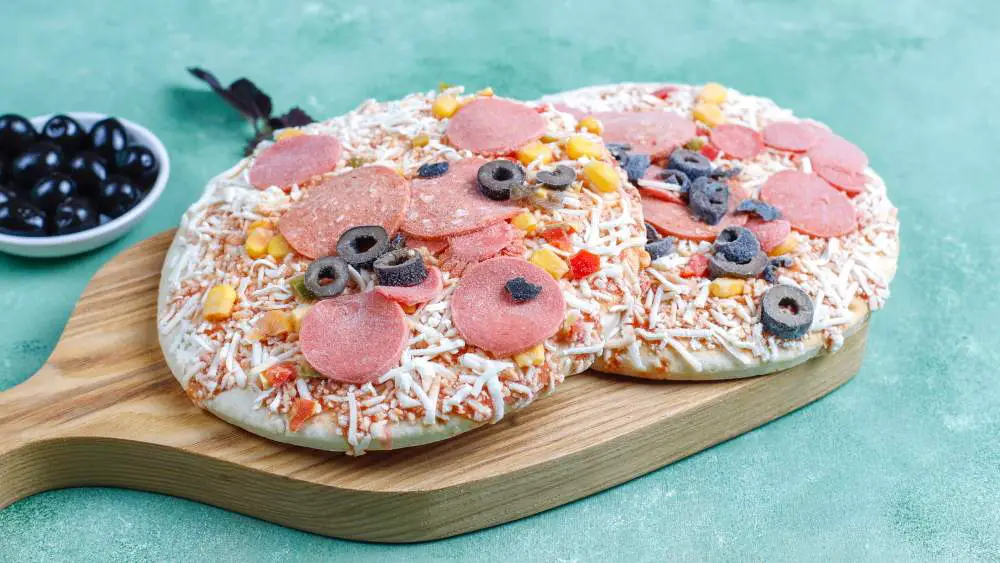 Some Downfalls
It is worth noting that the microwave is certainly not the best way to cook frozen pizzas. When you cook pizza in the microwave, you can't expect a perfect result, the texture of the dish may differ from what you expect and for sure it is different from your own pizza cooked from scratch.
When you microwave frozen pizza, the dough can turn out rubbery and crispy and over-dried and soggy. The cheese melts unevenly, and you end up with a solid piece of partially melted cheese that can simply slip off the dough.
But few people want to stand in the oven for half an hour for a slice of hot pizza that they want at night or to defrost some mini pizzas. So, the microwave may be the fastest and most convenient way of cooking frozen pizza.
The Best Way of Microwaving Frozen Pizza
You can reheat frozen pizza in the microwave. It is necessary to observe some details in order for the result to be edible. Follow the manufacturer's cooking instructions on the package to microwave frozen pizza. Pay close attention to cooking time and microwave power, which is measured in watts. So the chances of making delicious pizza will increase.
Pay attention to the store-bought pizza packaging when you buy it, microwave should be listed as the preferred cooking method. Then there will be special paper in the box to give the pizza a crispy crust. Results may vary, but following package directions will result in evenly baked dough and a crispy crust.
Microwaves heat food with radiation rather than direct heat. Radiation accelerates water molecules that create steam. Hot steam heats up your food, either drying it out or making it soggy. Among other things, pizza dough can stick to the plate and turn into a puréed mess.
We hope your dough will be just fine. Frozen pizza technology is constantly improving, and manufacturers are specifically making efforts to make microwaving convenient and safe. Check out this link to see what google patents there are for making frozen pizzas.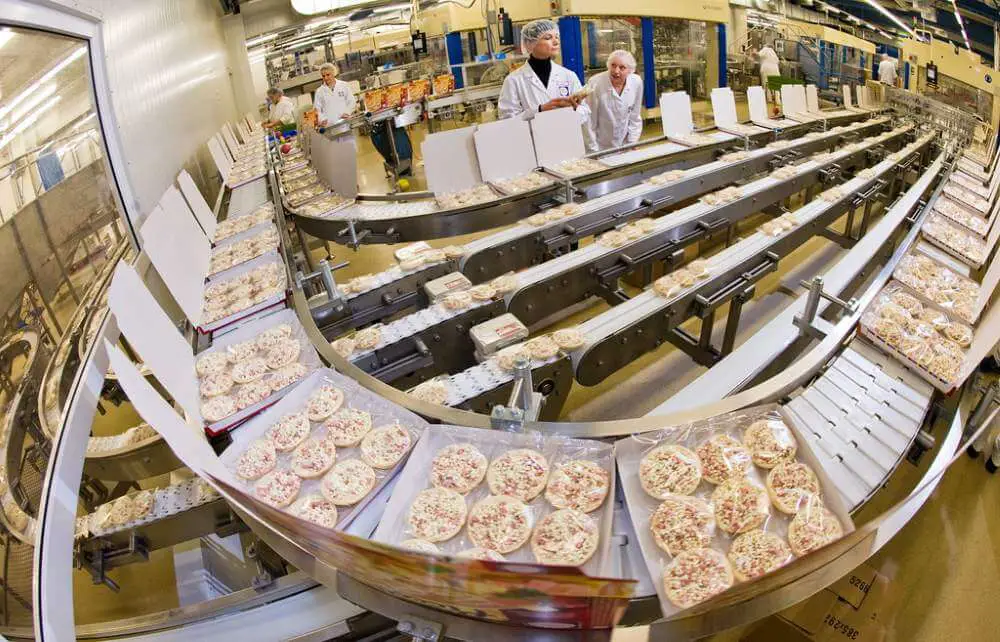 How To Get Crispy Crust When Microwaving Frozen Pizza
Most pizzas have instructions for 1-2 ways to reheat them. The most common way to cook frozen pizza is to use the oven, but the microwave is still the ideal solution.
Cooking frozen pizza in the microwave is relatively easy and only takes a few minutes. If the crust is thick, it may take up to 8-10 minutes to thoroughly heat it.
Here's the secret to microwaving store bought pizza. The microwave is not suitable for browning frozen pizza crust. This can cause your pizza to have raw or soft crust rather than crispy. It's just something to be aware of. But there are a few options for making your frozen pizza crispy.
If you have a browning dish or microwave-safe dish made of porcelain, these are ideal for microwave-safe crusting.
Or you can purchase a special microwave crisper pan that is perfect for attaining crunchy crust.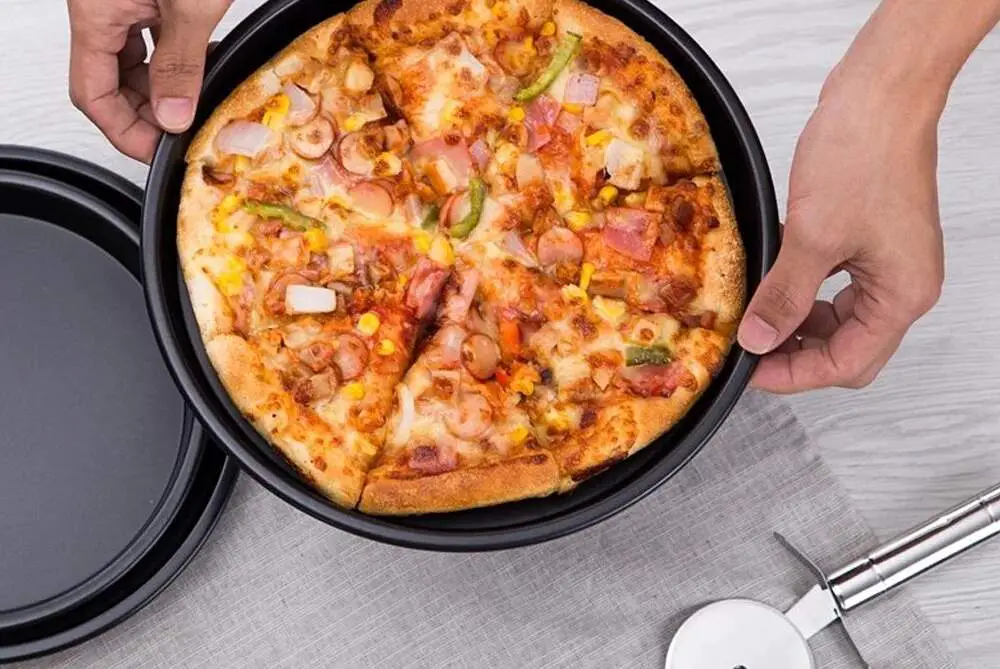 How Long Do I Microwave Frozen Pizza
Before you begin to microwave frozen pizza, be sure to remove any plastic wrap or packaging from your pizza and place it on a microwave-safe dish.
Here's a quick reference chart for size and microwave cooking times. This microwave time assumes the use of high settings or an average power of 1100 watts.
Pizza size microwave time
8-9 inch pizza – 4-6 minutes
10-11 inch pizza – 5-7 minutes
11-12 inch pizza – 7-11 minutes
French bread or thick crust pizza – 7-8 minutes
Mini pizza – 5-7 minutes
Step-by-step guide on how to microwave frozen pizza
You will need a plate that will fit the entire pizza. Also, make sure the plate is large enough to fit in the microwave. Put the frozen pizza on the plate, brush it a little with olive oil, open the door, and put the pizza in the oven.
Do not use metal utensils or aluminum foil to microwave a frozen pizza. In a microwave, metal items may spark, and this may cause a fire or damage the microwave oven. Use cookware with this safety symbol on it:

Turn on the microwave on the highest setting and set the cooking time indicated on the pizza package. Typically, a frozen pizza will take about 3-4 minutes to cook, but extra large or fluffy pizzas may require 1-2 minutes more time. Inspect the frozen pizza package ahead of time and look for the instructions for the recommended time.
While the pizza is cooking, do not leave the microwave oven—this way you will have time to get the pizza in time, and it will not burn.
Cooking time largely depends on what kind of dough was used as the basis.
Useful Facts To Know Before Microwaving Frozen Pizza
Refrain from using pizza stone to microwave frozen pizza.
Metal objects or aluminum foil may spark in a microwave, use microwave-safe dishes only.
Sometimes frozen pizza, which is recommended to cook in the microwave, is sold immediately with a special heat-reflecting baking sheet. This accessory helps to give a frozen pizza crispier crust. If you bought this particular pizza, use the included baking sheet.
As a general rule, frozen pizza manufacturers recommend baking it in the microwave. This method is suitable for both inexpensive pizzas and for products of the middle-price category.
The fact is that in the microwave, you get frozen pizza cooked evenly, which creates the optimal mode for preparing the base and toppings.
For your own frozen pizzas, several minutes will be enough if the pizza was frozen half-cooked.
Frozen pizza can be made any time of the day and is equally good for lunch and dinner. Plus, it's quick to make for an after-school snack!
Try different brands of store-bought frozen pizzas – sooner or later you will find the one that will be perfect for your convenient cooking method.
Get a toaster oven for the most delicious crispy pizza dough with melted cheese and hot sauce.
Here's a little tip that will make your store-bought pizza super special. Try adding a little extra toppings to suit your tastes when the main defrosting stage is done. A little extra cheese or pepperoni hasn't hurt anyone yet, and seafood might just do the magic. Just read this recipe about seafood pizza, and you'll definitely want to make it happen. Flavorful herbs and slices of fresh vegetables change store-bought pizza beyond recognition.
Reheating in the microwave
Find a microwave-safe plate. Choose a ceramic or glass plate. Put the pizza on a plate. Place a paper towel on a plate to absorb excess moisture. Place a glass of water in the microwave. Pick a ceramic cup with a handle. Microwave pizza for a few minutes.
You can microwave absolutely any type of pizza. For example, see how to reheat deep dish pizza. But if you have an air fryer, prefer it. Our experience is that it's better for the crust. Here's our research: Learn How To Reheat Leftover Pizza in The Air Fryer in 5 Minutes.
Resume
In most cases, when you bought a frozen pizza, which does not need to be cooked, it remains only to heat it up, and the microwave will help with this.
Such a pizza needs to be defrosted for about 8 minutes, and then cooked for 4-5 minutes at a power of 500W and at the last minute increase the power to 750W or turn on the grill, with a pizza weight of 500 grams.
If you do not have such a powerful microwave, you can simply increase the time. By using the grill when cooking, you can get crispy pizza crust and delicious filling. When cooking, you do not need to remove the polyethylene in which the frozen pizza was sold, so to avoid dry or soggy crust.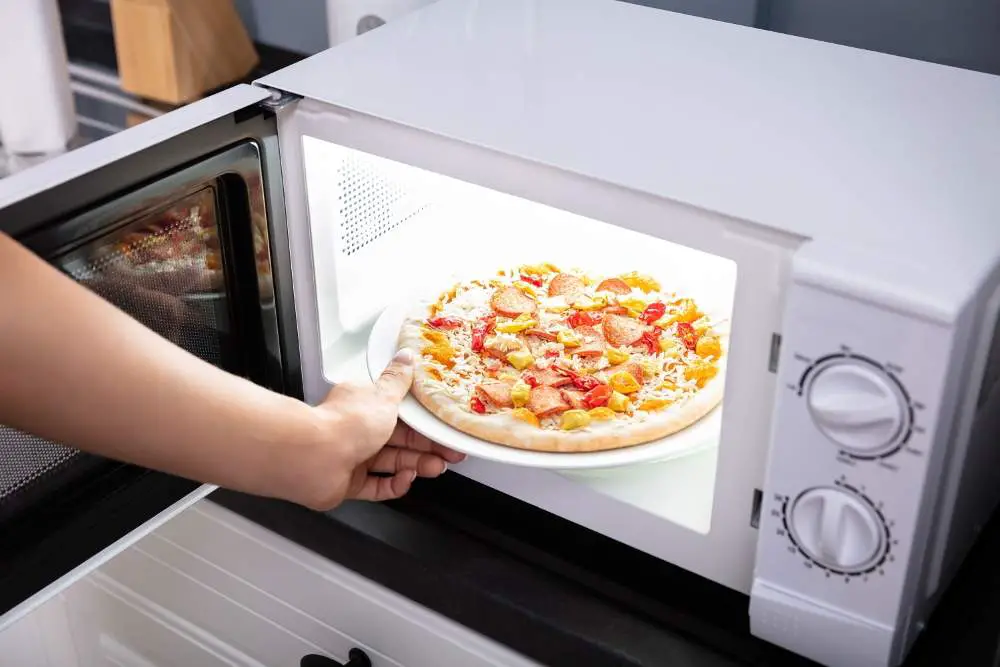 FAQ
How long do I microwave frozen pizza?
Read the cooking instructions on the package to know exactly how long to cook pizza in the microwave. Thus, you can turn on the microwave depending on the time required for cooking. Also, you can keep a close eye on the pizza while it cooks, so you don't overcook.
As for cooking in the microwave, it is very fast. Because most frozen pizzas take about 3-4 minutes to cook in the microwave at a high temperature. However, thicker or larger varieties may take a little longer, usually 5-6 minutes.
Can I cook a pizza in a microwave?
Cooking pizza in the microwave is possible and easy, especially if you have a model with a crisp function. This function allows, thanks to a special plate supplied with the appliance, to heat food not only in the upper, but also in the lower part and along the edges. So you just need to preheat your plate and add the pizza at the right time.
Baking your own frozen pizza in microwave is possible if you froze it half-cooked. You can defrost homemade pizza on a thin crust if you have a powerful microwave.
Is it possible to microwave frozen pizza without making it soggy?
Place the pizza slice on a plate in the microwave. To make frozen pizza crispy, place a mug or cup of water suitable for microwave use nearby. This acts as a bait and will absorb some microwaves, allowing the pizza to heat up a little more evenly, so the cheese will melt again before the crust loses all of its moisture. This helps to not make pizza soggy.
Can you eat frozen pizza raw?
Frozen pizza is great because the ingredients on top are already cooked. The dough for the crust even bakes a little, so it's not exactly raw dough. You can eat pizza cold and raw, although it can taste better if you reheat it in some way, either by microwave or by toaster oven, or even by air-fryer.
Conclusion on How to Cook a Frozen Pizza in the Microwave
We hope this guide will help you prepare frozen pizza in the microwave. We are confident that you will have delicious microwaved pizza if you follow the simple instructions given in this. Good luck with your cooking!